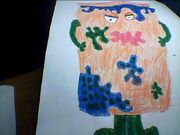 Barf Jar is a Series 14 Trashie.He's a Jar full of Barf.
Bio:
Most Jars store food,some nuts and bolts,But this jar contains Barf!Next time you use a jar check to see if it contains Barf!
General Bin-fo
Trash Town Hangout:Cruddy Cuboards
Team:Hard Rubbis
Finish:Classic
Wave:1
TC Line:"Store your fresh Barf!"
Colours and Rairities:Orange:Ultra rare Yellow:Common Green:Rare
Trivia
Barf Jar actually has a rim (like on real jars)
From a Birds-eye veiw he looks like he is filled with barf
Community content is available under
CC-BY-SA
unless otherwise noted.