Car-rott is a trashie from Series 7 and part of the Grubz crew. He's a mouldy carrot.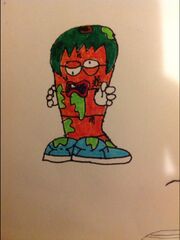 "Remember to eat your trash!"(Trading Card Line)
BIO:
Some people say the carrots are good for you. But Car-rott proves them wrong. His yucky, icky, mucky, and sickly taste isn't healthy at all!
Hangout
Vile Vegie Garden
General Info:
Series: 7
Team: The Grubz
Finish: Classic
Colours & Rarity: Orange(Common), Green(Rare), Light Grey(Common)
Wave: 1