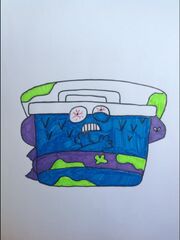 Chiller is a icky esky/cooler wearing a scarf and earmuffs from Series 7. He's in the Hard Rubbish Crew.
BIO:
When it is hot outside and you'll need to store you're drinks, don't use Chiller he'll freeze your drinks into unmeltable ice cubes and trashify them.
Hangout:
Lost in the beaches of Trash Town
"Freeze a grotty good fellow" (Trading Card Line)
General Info:
Series: 7
Team: Hard Rubbish
Finish: Classic
Colours & Rarity: Red(Common), Blue(Rare), Brown(Common)
Trivia
Chiller was actually going to be a freezer instead of an esky.
Community content is available under
CC-BY-SA
unless otherwise noted.