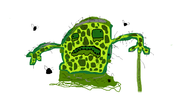 Grotty Gummi is a wall crawler trashie from the Series 32- Sidewalk Trash team called the Candy Crud.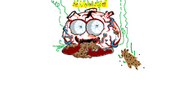 Bio
"Once a loved fruit snack... I think... fell from the pack at a bus stop, he got spat on in the hot sun, and melted, then got picked up by a shoe, stuck in a carpet, eaten by a dog, barfed up, then eaten again and barfed back up. he crawled to the bathtub, fell in the toilet, flushed, and washed back onto the bus stop he started, went on the bus, went to Disney world, ended up near a bus in Disney, got spat on by a sick kid, and stayed there for 2 years. then retired in Florida and got eaten by a senior citizen, and then barfed up, sneezed on, and then thrown on another bus stop and still sits there to today. Even The Flies Stay Far, Far Away. True Story."
Trash Town Hangout
"Busy Bug Bus Stops"
Trivia
The incredibly long bio is irony.
He is based on a gummy I found at Disney world while I was sick, I spat on it, and was inspired.
He is a fruit snack, not a gumdrop.
The creator prefers to call fruit snacks "Gummies"
I like to spell Gummy like, well "Gummy", but it stood out better as "Gummi", thus the name "Grotty Gummi".
The end of the bio is a joke on moose's Nonsence, "Even The Flies Stay Far, Far Away." because if you look at his photo he has flies around him.
Community content is available under
CC-BY-SA
unless otherwise noted.