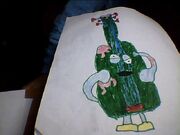 Guilt-ar is a Series 14 Trashie.He is a Guitar that is all Slimey.
Bio:
Guilt-ar is past sounding good.When you pluck his strings his screeching sound will make you deaf and might kill you!
General Bin-fo
Trash Town Hangout:Mucky Music Rooms
Team:Mu-Sick
Finish:Classic
Wave:2
TC Line: "This guitar will make you feel Guilty!"
Colours and Rairities: Green:Rare Yellow:Ultra Rare Blue:Common
Community content is available under
CC-BY-SA
unless otherwise noted.