Gutter Guitar is a trashie from Series X. He is in the Hard Rubbish team. He's a broken guitar that was thrown in the gutter.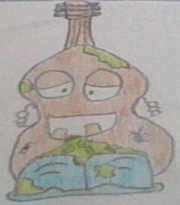 BIO:
Gutter Guitar was dropped into the gutter on accident many years ago. After being covered with ooze and getting smashed, he found his way to Trash Town. He trains to accomplish his lifelong dream to become a master musician. I can tell you, it's not going well.
Trading Card Line:
"Mucky music to my ears."
Hangout:
The gutter, of course!
Info:
Colors: Brown, teal, and red
Rarities: Common, rare, and ultra rare
Gallery
COMING SOON
Community content is available under
CC-BY-SA
unless otherwise noted.