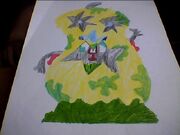 Putrid Pumpkin is a Series 14 Trashie that Oozes his way around Trash Town.
Bio:
Steam him,Boil him,Cook him,Roast him.All of this Will extend his Gross Flavour and ruin your meal!STAY AWAY from this Pumpkin!!!!!!!!!!!!!
General Bin-foEdit
Trash Town Hangout: Scratched Pumpkin Patches
Team: The Grubz
Finish:Classic
Wave: 1
TC Line: "The odd one out!"
Colours and Rairities: Orange:Ultra rare Yellow:Common Green:Rare
Community content is available under
CC-BY-SA
unless otherwise noted.