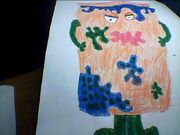 These Trashies are the GROSSEST Hard Rubbish Crew yet!These 15 Trashies are hidden in 5 Packs,2 Packs,Ooze Packs,Dunk'n'Fizz Packs,Foil Bags and 12 Packs for you to Find!
Trashies
Weak Speaker
Slopping Board(chopping board)
Bath Splat(bath mat)
Cacky Clock
Fright Bulb
Cacky Vacume
Barf Jar
Dread Phones
Shocked Box(SE)
Faker Paper
Spewy Newspaper
Rubbish Rubber Band
Hurtin' Curtin
Sicture Frame(picture frame)
Scared Brush(hair brush)(SE)
Bio
HARD RUBBISH TEAM: These are the broken bits of trash that pile up around the house. Smelly old chairs, drippy paint cans and trashed TV sets - your garage is a gold mine for these trashy treasures!
Community content is available under
CC-BY-SA
unless otherwise noted.