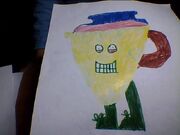 These Trashies are the GROSSEST Trashies from The Grubz yet!These 60 Trashies are hidden in 5 Packs,2 Packs,Ooze Packs,Dunk'n'Fizz Packs,Foil Bags and 12 Packs for you to Find!
Trashies
Snotty Carrot(SE)
Putrid Peanut
Slipper(banana skin)
Sick Biscut
Bog Food(dog food)
Boring Orange Juice
Stale Kale
Smell-ery(cellery)
Butt Cutlet
Dead Bread(SE)
Scary Floss(fairy floss)
Lazy Gravy
Trashed Tomato
Lollie Slop(lollie pop)
Boggy Beatroot
Pork Smelly(pork belly)
Bad Radish
Pee Bag(tea bag)
Putrid Pumpkin(SE)
Stuffed Sausage
Bio
THE GRUBZ TEAM: If it's covered in mold, passed it's Use By Date and smells old - it's part of The Grubz! These are food Trashies that are far from fresh. Find them in your feral fridge, pukey pantry or unlucky lunch box!
Community content is available under
CC-BY-SA
unless otherwise noted.