===******  This Dripsy123's version of Series 7 and NOT REAL
Please do not copy or edit any of Dripsy123's awesome original Trashies ******
===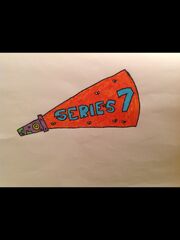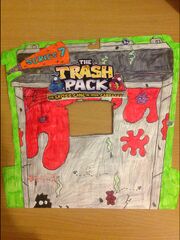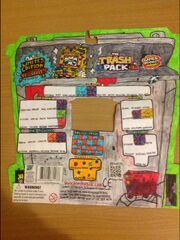 Series 7 is my own Trash Pack series. The Trashies are in mini purple dumpsters replacing wheelie bins. The ultra rare line is Archeo-Trash, trashies that can be broken up and put back together they also have a pearly finish. The special editions are Growing Trash that grow when you put them in water for a few days. The Limited Editions are both metallic and bejewelled with tiny rhinestones.The logo is a purple flashlight with a light coming out. There are now Rare "Smelly Trash" but don't be fooled by the name they are just scented. There are new categories like Bin-Struments replacing Food of the World and Spewy Sports replacing trash toys. I'M NOT GIVING PERMISSION TO USE MY OLD BIN CRITTERS, TRASH TOYS and BIN MONSTERS! The trading card tins for Collection 5 is: Tough Toffee, Gummy Worms, and Junk Jellies.
DESCRIPTION:
Make room for this series, as for new Growing Trash are here to come, and listen for the trashies of the BIN-Struments, and play with the Spewy Sports.
PLAYSETS:
Trash Town Express
Sludge Slide
Garbage Factory
Collector Toxic Waste Drum
Horror House of Slime
Mega Collectors Wheelie Bin
Super Collectors Case
Trash Town Amusement Park-Spinning Peecups
Trash Town Amusement Park-Feral Ferris Wheel
Trash Town Amusement Park-Rotten Rollercoaster
Trash Town Amusement Park-Messy Merry-Go-Round
Scumbo Jet
Trash Town B-inn
Ice Scream Van
PACKS:
2 Pack
5 Pack
Goo Bucket Pack (8 Pack)
12 Pack
Special 2 Pack (With 2 Special Editions)
Pencil Pack (Comes with 6 Trashies and pencils)
Foil Bag
Two Pack Egg
THE GRUBZ:
HARD RUBBISH:
BIN-SECTS:
BIN-STRUMENTS:
SPEWY SPORTS:
(Ultra Rare) ARCHEO-TRASH:
LIMITED EDITION: Casino Trash
EXCLUSIVES
GID Busted Bulb
GID Lousy Lantern
Colour Change Sludger
Colour Change Stingle
Flocked Junk Mail
Wall Crawler Sticky Pop
Biter Crud Can
Biter Flesh Eating Virus
Gallery
TRIVIA
The Special Editions were actually Splatter Trash.
There was going to be a trashie called Shockolate Bar which was scrapped because everyone at Moose hated it.
The Ultra Rare line was actually Pearly Washed Up Trash instead of Jigsaw Toy Trash( which is now Archeo-trash because of Trash Toys), the idea was scrapped because it is just like Series 4's Beach Trash.
Turd Turtle was actually called Turdle.
There use to be Bin Critters and Monsters now they're used in the Series 7 UFT.
According to the poll, this happens to be the most popular series so far.
Poll
How would you rate this series?
What your favourite Trashie in Wave 2?
Community content is available under
CC-BY-SA
unless otherwise noted.