INCOMPLETE
In this series, there are cyan mini-toilets replacing wheelie bins. Special editions are Bulgy Trashies. When squeezing, the Trashie starts to swell! This series also marks the return of Bin Fections!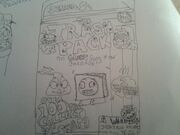 Packs
Gold Digger 8 Pack (Similar to the Boogaz nose, but smaller. 7 Trashies inside.)
Playsets
Clean Mobile: (Contains 2 Exclusive Cleanies: Pretty Petal and Sweet Shampoo)
Funky Flusher: (2 EX Trashies: Trashy Beatz and Dumped Disco Ball)
Sour Sewer (4 EX Trashies: Slimo, Bent Cent, Sweat Floor and T&T) 
Grot Hospital (4 EX Trashies: Taken Thumb, Sludge Love, Nasty Needle, Poop Pill)
The Grubz
Crappy Meal
Lo Lame
Foul Flapjack
Puke Soup
Sticky Syrup
Mucky Mash
Greased Up Bacon
Sweaty Swiss
Hard Rubbish
Sweat Shirt
Buzz Puzz
Putrid Pan
Stink Bomb
Stale Mail
Bin Fections
Swine Flu
Stalemonella
Slackteria
Expect BinFections to come and go. This team isn't quite done!
Bin Sects
Eckucation (or School Trash)
The Clean Team
These have a metallic, shiny finish. Sworn enemies of the Trashies!
Cleansing Cloth
Shined Bubble 
Royal Recycler
Limited Edtion
Community content is available under
CC-BY-SA
unless otherwise noted.