Turd Thimble is an ultra rare Hard Rubbish Trashie from Series 15.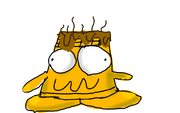 Bio
He's got hairy armpits! This turd thimble is very poopy and filled with snot, so when you're sewing, don't pick your nose!
Appearance
Turd Thimble is a yellow thimble. He has a blob of poop spilt on his head with six sewing threads sticking to the poop. His eyes are in crazy directions and his mouth is squiggly.
He also comes in silver and green.
All his variants are coated lightly in glitter.
Community content is available under
CC-BY-SA
unless otherwise noted.