Hello! Welcome to my user page!
About Me
Upon looking at the entries for the design contest in 2012, I knew that there were many people that had their own ideas that needed to be shared with the world. It was my duty to make sure those ideas were shared!
The Trash Pack Fan Wiki: The Movie: COMING SOON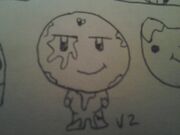 UNTITLED
Please let me know if you have any questions of concerns about this site. I'll be sure to help you out if I can. 
If you need to contact me outside of the wiki, please E-Mail me at trashspacefighters@gmail.com.
I don't play around when it comes to rule violation. You will get a block if you break ANY of the major rules. Don't go editing my pages. They're mine, not yours.
IMAGINAAAAAAAAAATION
I create Trashies. Lots of Trashies. I have dozens and dozens of Trashies that I have created. Now if only I could get them all up.... sometimes I'll just look around the room, looking for an object to turn into a Trashie.
My Gross Greeting
If you find me in a chat here, you will probably get this greeting:
"WHERE YOU BIN AT"
"GET IT?"
"BIN"
My Series
supereggytrash (Coming Soon)
The Clean Team (Series) (Coming Soon)
Community content is available under
CC-BY-SA
unless otherwise noted.